Robert i EXPLORE!
---
Access Hollywood - Intervju med Robert!
Källa | Lionlamblove
---
Robert Pattinson - Photoshoot!
Många nya bilder på Robpattz från ett "photoshoot" under pressjunket för Remember me (:
se fler här!
Källa | Twilightsweden
---
Förhandsvisning av Remember me!
Onsdagen den 10 Mars förhandsvisas RPattz nya film Remember me på dessa biografer:

Stockholm, Park
Göteborg, Biopalatset
Malmö, Filmstaden Storgatan
Lund, Filmstaden
Linköping, Filmstaden
Karlstad, Filmstaden
Uppsala, Filmstaden
Gävle, Filmstaden
Örebro, Filmstaden
Västerås, Filmstaden
Helsingborg, Filmstaden
Jönköping, Filmstaden
Norrköping, Filmstaden
Växjö, Filmstaden


Biljetterna släpps till Guldmedlemmar onsdag den 3 mars och till Silvermedlemmar torsdag den 4 mars. Max två biljetter per medlem (det är gratisbiljetter) och biljetterna hämtar du i kassan på valfri SF Bio. Först till kvarn gäller, så spriiiiing!
Ska ni se Remember me? (:
Personligen tror jag inte den är något för mig faktist. Är mer en fantasy-människa, hehe. Ser på sån awsomness som Harry potter, Sagan om ringen, Eragon osv. (;
Källa | Twilightsweden
---
Hmm?
Roligt eller inte? (;
/Linda
---
Vad har han gjort med håret?
Dethär är då en bild på Robert Pattinson från BAFTA galan och får jag bara fråga; Vad har han gjort med håret?
Är det p.g.a ans nya film ?
Det ser ut som om han inte tvättat håret på hundra år (108 (a)) och att det är en stor fettklump ...
Oj, oj, oj.


---
Robert Pattinson gimme more!
Ibland måste man luta sig tillbaka i stolen och bara njuta av en skitbra (*host, sexig) video på
ROBERT PATTINSON.


Ni har säkert sett den någon gång men kan man få nog eller?
---
(HAHA)
Haft en tråkig dag? Kanske detta kan få dig att skratta..
''He looks att you like you´re something to eat''
---
Rob hos Regis & Kelly!
---
Robert på Today Show!
That's so funny XD
---
Trailern för Remember Me!
Självklart är han urgullig men asså jag har bara 3 ord:
FÖRSVINN FRÅN SNYGGINGEN!
Ifall hon icke lyssnar på mig så är hon riiiiiiiiiktigt illa ute >:]
---
Nya bilder på Robert!
VARNING FÖR DREGLANDE!
Visst är han bara för snygg? Det är helt galet!
Och den sista bilden är fetsköön! Asgullig! <3
Se alla
här
!
---
Rpattz, Vanity Fair Outtakes!
---
Hayley Williams & Rob Pattinson!
Ett litet klipp där Robert hänger med Hayley Williams (sångerskan i Paramore). Gylligt ;D
---
Listen & judge
Lyssna & bedöm! :)
källa: twilightmovie
/ Linda
---
RPattz intervju!
How was it reuniting with Kristen Stewart for New Moon?
"There's a natural chemistry going on with Kristen. Even doing this sequel, it's so easy…
I was really worried that I wouldn't know how to do it again, but it's so easy to play off her.
She always says that she pretty much got me the part – though I don't really believe her!"
What sort of arc does Edward go through this time?
"He's always talking in the first one. "I need to make the right decision. I need to do stuff for you, for you, for you." And he makes a decisive move, which is to leave her, and he completely believes it's for her own good.
But in his heart, he obviously realises it's completely wrong. And it takes him the whole movie to realise the profundity of his mistake. So that's what his arc his.
The world forces him to realise he needs to be with Bella, and there's no way around it"
So New Moon takes a similar serious approach to teen love as Twilight?
"I think no one really knew what we were working with when Twilight happened.
And because of the in-roads we made in saying it's not going to be a typical teen film or a sappy love story, it does allow us in the second one to have a certain degree of seriousness. Even more so."
Chris Weitz is your new director on New Moon. How has that been?
"I really love Chris. Not only is he a good director, he's a great guy. God, I sound like such an arse-kisser! But he actually is.
He didn't really try and change anything. He saw what me and Kristen were doing and worked within the realms of that."
Do you feel trapped in a Twilight box?
"Not really. I guess I have no choice right now – because I'm contracted to do them. But they're all going to be done quite quick.
I'll have done three of the four by October of this year, then I'll only have one more to do."
The obvious comparison is Harry Potter… Do you think this is easier to make though?
"I guess it is. The Harry Potter I worked on was an 11 month shoot. I couldn't be doing that.
I don't know how those guys stayed sane – they've been doing it for 10 years. I would go completely crazy"

Have you talked to Daniel Radcliffe about this sudden fame?
"I haven't talked to him in a while. I guess you try and stay Zen about it. You have to just learn to accept it.
I guess the whole thing is, you don't want to wake up one day and realise you've turned into someone who you weren't before and it wasn't your choice.
That's the only scary thing. It's always really up to you. Most of the time, you can control it to a degree."
What are the positives?
"Some of my friends who I grew up with are musicians and they're involved with the Twilight soundtrack. It's amazing what's happened to them.
They're doing tours of America and selling out every single show. It's insane what you can do with that connection.
The Twilight fans are like… I don't even think 'devoted' is the right word. They're fanatical."
It must be hard to deal with…
"It is, kind of. But you just learn to deal with it. There's no point in being negative. If you keep going, "I hate this, I hate this", you can't stop it.
I was always trying to hide at the beginning of the year, but I have nothing to hide anyway!"
Do you get stopped everywhere now?
"Yeah. In weird little places… I went up to Yorkshire and I was walking down a street in Guisborough and there was one person on the street.
I looked up for one second and they said, "Hey, can I get a photo of you?" How can you have immediate recognition in Guisborough? That was very strange!"
What about all this stuff on the internet, all the gossip about you…
"I don't really care. Everybody in my life knows what's real and what isn't. Apart from my mother, who seems to believe every negative thing that's written about me!
She's like, "I can't believe you did this!" I'm like, "I didn't!" And she's like, "Yes, you did, I know you did!""
What did your mum tick you off about?
"It was about swearing! I said, "I wasn't even in the city" and she was, "I bet you did say that!"
She'll literally believe a gossip magazine over her own son."

And don't forget, you can get more Pattinson goodness in our massive New Moon feature, in the latest issue of Total Film. It's on-sale Thursday and looks a lot like this... Swoon!
---
AAAW! :')
OMG! Hur jekla söt får man vara? ja, även fast man är full dårå ;)
---
5 Nya Outtakes på Rob från VF!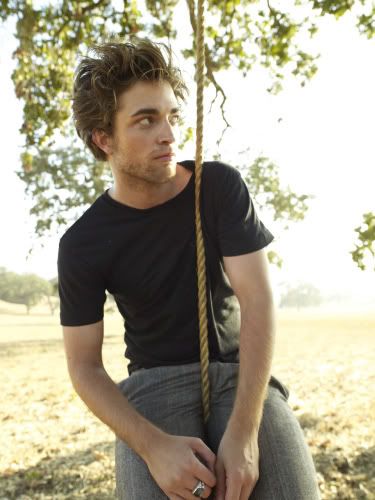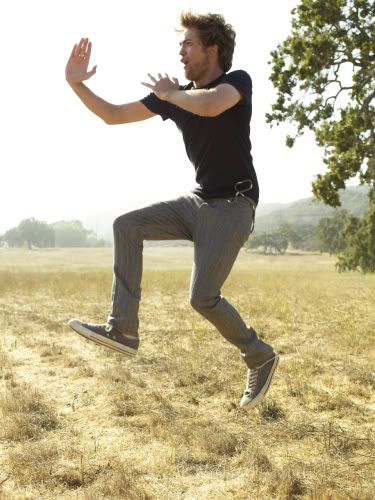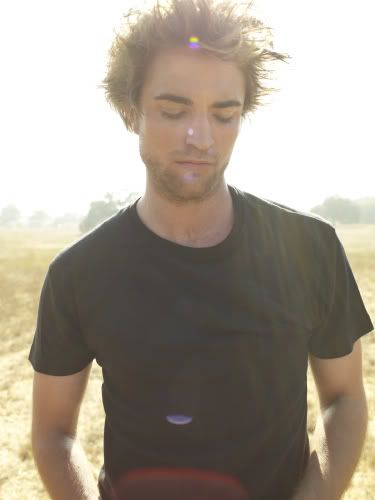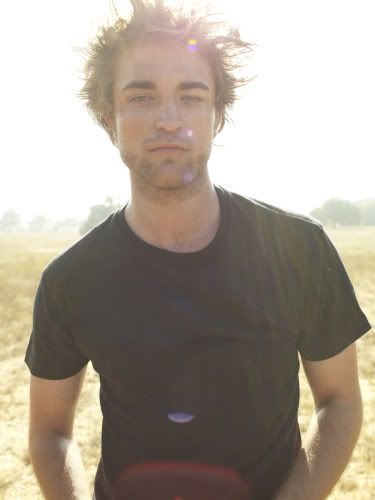 källa | Twilightsweden

---
Robert on air folks ;)
---
You better tell us! ;)
Det går rykten om att Kristens & Roberts förhållande ska bekräftas, i december, vissa källor säger att det är sant, vissa falskt och vissa att det är ett PR trick osv..
Men då är det väl bara att vänta till december? ;)
"Looks like there's a big announcement brewing this December. And we're not talking about a royal wedding.
Instead, Robert Pattinson and Kristen Stewart are apparently all set to announce their relationship officially in December. According to US gossip rag In Touch, the pair will be revealing all in an interview and photoshoot in Harpers Magazine. The pair have deined all suggestions of a relationship so far, but according to the magazine 'Rob and Kristen were relatively open about their relationship.'
So it looks like we might have the answer to one of the most hotly debated topics of 2009 in just a few more months... "
Text & bildkälla: twilightfans
Xoxo

Linda
---